Landsiedel NLP Training → NLP Courses → NLP in London

NLP in London
You always searched for an opportunity to increase your communication skills and enhance your personal growth, but you didn´t find the right trainings for your needs in London?
NLP -Neuro Linguistic Programming might be the solution.
Landsiedel NLP Training offers you many different trainings right in the heart of London! All of our trainings follow international NLP associations guidelines. With our NLP-Trainings we want to help people to enhance their lives and invite you to be part of it! You can start with NLP in a week in London. This is the perfect way to enter the world of NLP for the first time. This seminar shows you that NLP is an instrument, to improve your life in many ways. For only 435 £ our NLP-Trainer Ray Wilkins will introduce you to an effective, thought provoking and mind changing tool! This price is an incredible offer. Normally a full week training of this kind costs a lot more!
If you are interested in further NLP training, in London we can offer the right options for you. Consecutive trainings such as NLP-Practitioner, NLP-Master, NLP-Trainer or NLP-Coach are coming soon.
Our Master-Trainer Ray Wilkins has over 30 years of experience in training NLP with further qualifications in psychotherapy and as a practitioner of natural medicine. He is an Australian who lived in London for some years, so he knows the city and its people´s preferences. Ray combines the best possible NLP-Training with great supervision so you receive high quality training. London being our first British location, Ray is very excited to start a new chapter in his NLP-Training career.
NLP in a week in London! Be part of it!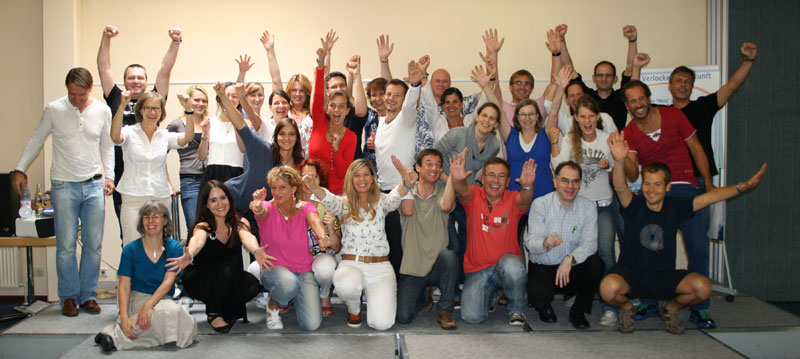 NLP in week in London is a unique opportunity for you to experience a week full of fun and specially selected NLP content that will enhance your life in several ways. In Germany NLP in a week is a great success. This October we will offer this seminar in Great Britain for the first time!
NLP in a week is ideal for people who want to learn more about the great potential of Neuro-Linguistic-Programming. It is a great way to enter the new world of NLP for the first time! You will see what kind of possibilities arise that can enhance your life for ever. One great feature of this week seminar in London is that it presents the best modules of NLP selected from many different trainings. You can experience all of it within just one week in the great city of London.
With NLP in a week you can learn, practice and laugh in a group of people with diverging backgrounds. This seminar in London is not only a powerful tool for personal growth and better understanding of communication but also an investment in your future! Take this chance and sign in for NLP in a week!
Our Trainer
Ray Wilkins has more than 30 years of experience and training in NLP, Personal Growth and Clinical Hypnosis. Together with his partner Cordula Ehms he runs the People and Art Factory situated near Bonn, Germany. The Factory is an institute for personal growth and art. Ray has been coaching one to one, people in relationships, teams and companies for over 30 years. As well as that, he is a specialist in discovering the psychological causes behind illness and Traditional Chinese Medicine. He believes that feelings and emotions are the key to the powers of self-healing and health.
Place of the event with Ray Wilkins
The NLP training with Ray Wilkins will take playe in the Tomlinson Centre. This is a modern, flexible conference center based in East London. The rooms with natural daylight, high ceilings and panoramic views across London offer a very unique atmosphere for our NLP seminars.
Accommodation near our NLP event Location in London
Travelodge London Hackney
19 Amhurst Rd
London E8 1JW
☎ +44 871 559 1875
Website:www.travelodge.co.uk
Single room: From 49 ₤ per Night
Distance: 1.2 miles (approx. 6 min drive)
City Inn Express Hotel
144A Mare St
London E8 3SG
☎ +44 20 8533 0846
Website:www.cityinnexpresshotel.com
Single room: From 69 ₤ per Night
Distance: 1.2 miles (approx. 7 min drive)
The Dictionary Hostel
10-20 Kingsland Rd
London E2 8DA
☎ +44 20 7613 2784
Website: www.thedictionaryhostel.com
Single room: From 38 ₤ per Night
Distance: 1.1 miles (approx. 6 min drive)
Places to eat and drink near the NLP seminar rooms
Bay's Fish Bar London
240 Haggerston Rd, London E8 4HT
Uludag - turkish restaurant
398 Kingsland Rd, London E8 4AA
Lekki Restaurant & Bar
323 Kingsland Rd, Dalston, London E8 4DL
Ray is excited about getting to know you! NLP in a Week
---
Change the things in your life that you would like to change by training at our institute in London. Grow beyond yourself. Advance into the center of personality development. We accompany you professionally and with numerous other services. At the beginning of your training you will already have access to our extensive archive, where you can download the entire training as an audio file. In this way you will quickly become a competent user of neurolinguistic programming.
Start now with NLP in a Week