Welcome to Landsiedel NLP Training - Communication and Motivation Coaching and Training
Learn NLP at Landsiedel NLP Training
Landsiedel NLP Training Schweiz GmbH offers professional NLP Training and free NLP evening courses. The courses are currently held in Austria (in Vienna), in Switzerland (in Zurich) and in holiday regions (Mallorca). In cooperation with the German company of Stephan Landsiedel, Landsiedel NLP Training is one of the largest NLP courses providers worldwide with over 30 locations. Each year, more than 1,000 people are trained by us in NLP. We certify according to German as well as international standards.

We are currently in a great phase of expansion and will soon be offering courses in France, England and China in addition to the trainings at our branches in Austria and Switzerland.

On our pages you will find a variety of free services as well as information on NLP training. We want many people to discover NLP as a tool to achieve their personal goals and to optimize their communication so that we can turn this planet into a wonderful world.
For international website visitors, a large part of the information is also available in English. You will also find webinars from our English speaking trainer Ray Wilkins. Now available in English: our famous NLP-Email-Training. 50 lessons with free NLP exercises and information. Each lesson also includes a metaphor, a quote and a book recommendation. Go for it, it's free: English NLP-E-Mail-Training

Let yourself be carried away to the world of neurolinguistic programming. Through our service area you will find numerous videos, free programs and a variety of texts. We are looking forward to your visit and wish you many enjoyable hours. Despite the many fringe benefits and the high quality of the trainers, our training programs are very favorable that as many people as possible can have a solid education in NLP. If you are interested in courses or trainings in Germany, please visit the German website of Landsiedel NLP Training.
Trainers
Conducts NLP-Practitioner, NLP-Master and NLP-Trainer-Trainings in Germany and internationally.
Ray Wilkins is our NLP trainer in London in English.

Evan Bortnick
Evan Bortnick is NLP coach in German and English.
Marian Zefferer
Marian Zefferer is our NLP coach in Vienna in Austria.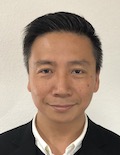 Jacob Shao
Jacob Shao is our NLP trainer in China in Chinese.
Etienne Dubach is our NLP trainer in Zurich in German and English.
All Trainers